Today, Afternic has made available the option to enable Two-Step Verification (2SV) in all user accounts. It's a great security feature that has been requested by the Afternic user base, as it helps reduce potential account compromises.
Two-Step Verification is a safety measure against phishing attacks and other online frauds that target user accounts, personal data, and financial records to exploit.
It works by requiring you to sign into your Afternic account with two successive factors: Your account password (something you know) and a code sent, for example, to your mobile device (something you have access to.)
The setup process is very easy and follows similar processes available on other online service providers. Here's a step by step guide on how to enable this security feature on your Afternic account:
First, go to your Afternic Account Settings, then onto Security, and click on the newly available option to Manage 2-Step Verification.

Then, choose the 2SV method you'd like to use and select Continue. Proceed with completing the setup process according to the method you selected.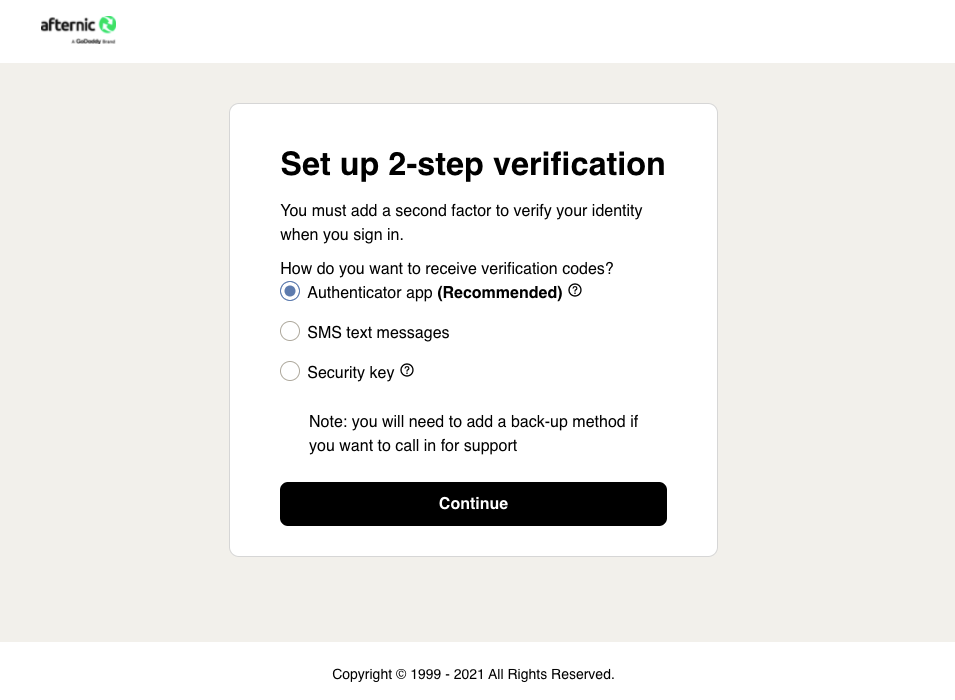 You can also add a backup 2SV method, minimizing login issues in case your phone is unavailable or misplaced. Click on the Edit button on the 2SV screen to add a backup method.
Other than SMS text messages to your phone, available methods include the Authenticator app as the recommended option, and a security key—a physical device such as a Yubikey or Google Titan, that plugs into your computer's USB port.
It's great seeing Afternic implementing Two-Step Verification, also known as Two-Factor Authentication. We strongly recommend that all Afternic users take five minutes to enable the feature, as it's a much needed security measure that when combined with a strong password, provides peace of mind. By all means set up a backup factor of authentication on a secondary device, to avoid being locked out of your account.
If you have any questions about how 2SV works, check out the Afternic FAQ page.
The information contained in this blog is provided for general informational purposes about domains. It is not specific advice tailored to your situation and should not be treated as such

.