6/23/2021 Update: Afternic has rolled out the beta to 100% of users.
Today, Afternic is rolling out phase one of its Afternic 2.0 release. The new Afternic "2.0" arrives in the form of several small releases and today's update is just one of many that complete this great upgrade.
The first release is available to random Afternic users with 1,000 or fewer domains in their portfolio, and only 10% of that customer base will have the ability to switch to the beta version. So you may not see this round of beta release at all or get immediate access to the following details:
How to access the beta?
Upon logging into Afternic.com, everything will appear as before, until you click "Portfolio" in the left navigation. At this point, you will be presented with a banner on top of the page to "Try the new Afternic.com 2.0."
After clicking, you will be presented with a small walkthrough of some of the changes in this phase. If you are a Uniregistry Market user, things may look familiar!

What's in phase one?
Phase one is seller-focused and certainly doesn't include all of what will be added over time to the new Afternic. The first thing you will notice is a clean, new look that provides you with options to customize the columns and data you wish to see. Although the customized columns setup is available and functional currently, once you log out, these changes will not appear the next time you log in. However, this will function properly and retain your selection at a later time but the retention of the settings is not part of phase one.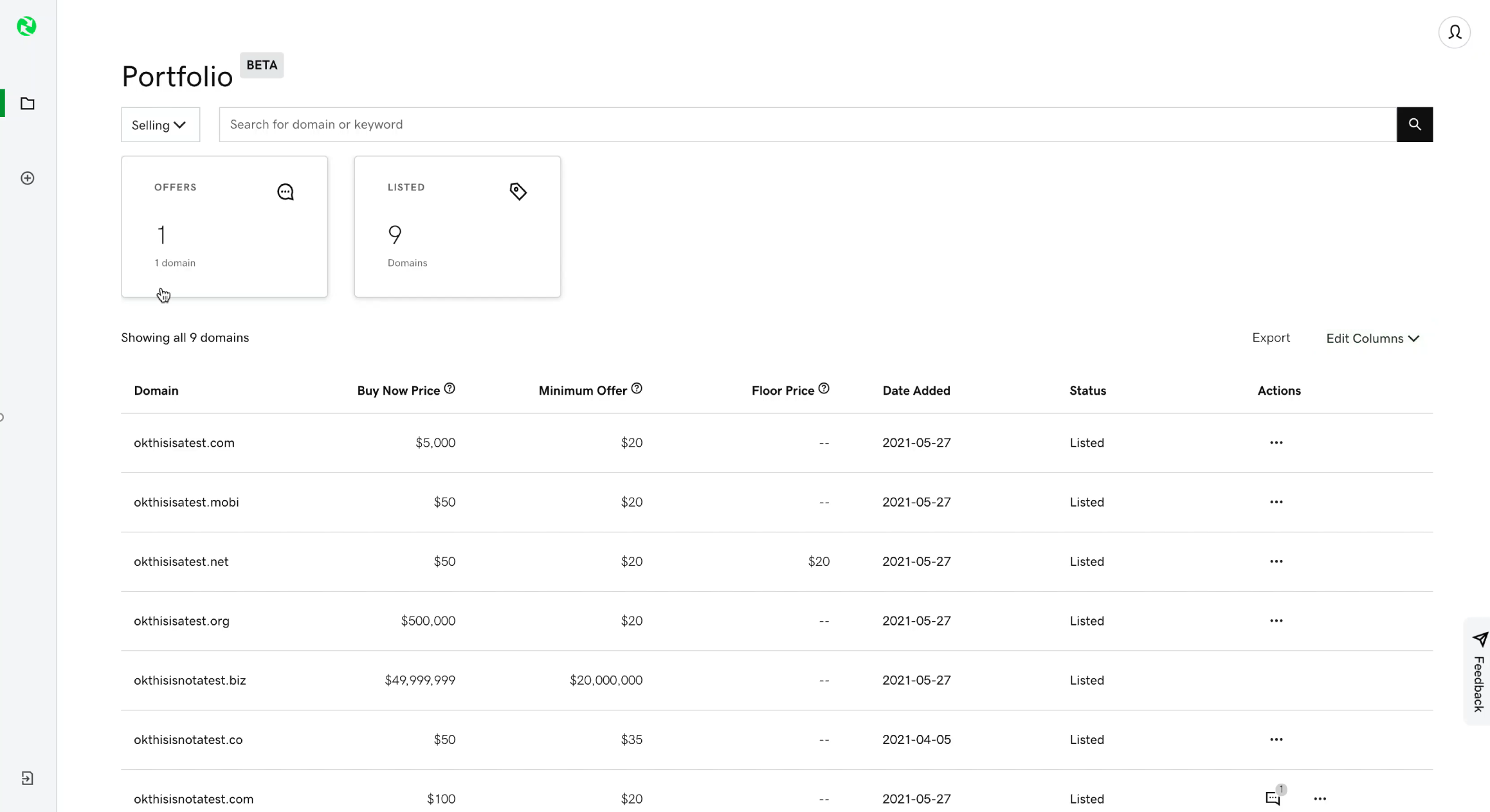 As part of the Beta, a few redesigned sections/pages on Afternic are:
Portfolio – All Domains section (now called the "Portfolio: Selling view")
Portfolio – Sold section (now called the "Portfolio: Sold view")
Edit Domain page (now called the "Domain Details page")
You may notice Pending Sale isn't part of the pages currently but it will be soon. That process is being reworked and improved!
A few new features with this release:
Smart Filters give you the ability to filter your domain listings and see listings that are: actively listed, still in review, or have offers awaiting your response.
Expanded pagination that allows you to see more of your listings on the same page (increased to 500 listings per page; Afternic Classic only supports 50 listings per page.)
Export feature lets you export your listings to a CSV file (import is coming.)
Actions column lets you respond to an offer without leaving the portfolio.
Easily switch between Selling, Sold, and Not Listed views using the drop-down.
New Domain Details page (screen shot below) lets you see a domain's fast transfer status, estimated value (when available), and similar sold domains. We also show past offers on this page.
We're making it easy to "switch back to Classic" to access sections of the site that are not yet in the Beta (account settings, add domains, etc.)


Limitations and known Issues:
Afternic Beta is currently limited to investors with 1,000 or fewer domain listings.
For optimal performance, a modern web browser is recommended (e.g. Chrome v90 or later.)
Column preferences (edit columns) are not retained when you change views or refresh the page in this first release.
Why only this small release?
You have to start someplace and still be able to conduct business as usual. More technically speaking, iterative or incremental product development are the official terms for this type of development release. It's important to all Afternic customers that domain sales, adding new listings, responding to offers and such still work as usual, and this release style allows that, among other reasons. Doing the release in small batches, for example, allows the developers to fix and push out repairs quickly while also taking in customer feedback and acting on it. It also allows tasks to get completed and not continue to have the project grow with more work load and delay release.
It can be a bit frustrating because not all new features are visible on the screen. No bulk editing options, for example, but that will be there over time. It just takes time to build the behind-the-scenes framework and make it all work correctly, test it, and release the latest work. They will come over time and with different releases, so please be patient with the update progress.
If you run into any problems, please use the feedback button on the lower right of the screen to report them, the developers review all of these. From a "suggestions" standpoint, that part is mainly covered, it just hasn't been released yet. Just because you currently can't see a function, doesn't mean it's not in the works. Personally, I wish that all of the new stuff would be released at once but at least we have the beginning of an improved Afternic experience with the anticipated wait almost over for the full experience.
Switch Back to classic Afternic from beta?
At any time, you can switch back out of beta to the classic Afternic version. In the left column, there is a square with an arrow in it (lower left of the left column.) Simply click on that symbol and you will revert to the classic Afternic design and function. You can also click the user head icon in the upper right and select the Switch to Classic Afternic option.
When should I expect the next phase to be released?
In general, the goal is to release bigger phases quarterly (every 3 months) but smaller updates and improvements will take place monthly. Much, much more to come!
The information contained in this blog is provided for general informational purposes about domains. It is not specific advice tailored to your situation and should not be treated as such

.