Whether you are a domain name investor or a potential end user of a domain name, at some point you will need to do some evaluating of what you feel a domain name is worth to you.
The following notes represent my thoughts and processes to help see demand and the components that bring value to domain names.
First things first
Domain names are rare and totally unique. This alone creates an interesting and sometimes overpowering value driver in them. Think: want vs. need and a perfect storm. This perfect storm consists of a seller that is in no hurry or need of selling and well-funded buyer who needs the domain and needs it NOW (think upcoming advertising push and needing the domain in it). Cue in the sale of Voice.com for $30,000,000.00! Yes, $30 million dollars for the domain name only.
I have studied that sale deeply and listened to each word the seller shared in an interview. That sale had little to do with the domain's value and much more to do with the seller's ego and the lack of needing to sell. The buyers were in a hurry and had the cash to pay. Perfect storm!
Now that we know a domain name CAN sell for a lot of money, let's get back to reality and the things that matter the majority of the time.
To be consistent, I have decided to use the domain name Blade.com for examples because it recently (Dec/2020) was sold for $503,000 and it was confirmed this was the price paid in a SEC filing. (fairly common price for premium one word generic .com domains currently)
Deciding the demand
There is and will only be one Blade.com! If you brand as Blade and your business is online only and you sell a product or service either D2C or B2B, Blade.com should be VERY important to you. Why? You know that peer pressure analogy "Everyone is doing it", the same applies with domain names and I can say with 100% certainty that owning and using the exact match domain (EMD) .com of your brand is THE way and common situation in the business world.
If you brand as Blade, your Logo is Blade and you reference your company in generalized conversations as Blade, your domain name should be Blade.com!
Okay, so how do I determine the level of demand online for a specific term?
How many domain names are registered exactly and broadly is a good place to start. The only service I use for this is DotDB.com, which is a well-established database of all actively registered domain names in all the different extensions (endings like .com, .net, .org. io, .co etc.). The site is free to use. Just type in the term you wish to search and click Search. For our example we will use: blade.
There are 172 exact match domains that are registered in a variety of TLD's, ccTLDs, GTLDs etc. That's a lot in general. The most I've seen is in the 300's. It's more common to see 30 and below. I have seen a six figure domain sell that have around 30 EMD's registered.
Search results show 33,171 broad match domains that are registered in varying TLDs. Again, this is a lot. These are domains that start with Blade, end with Blade or contain blade. Most of the time, this number is in the lower thousands or even hundreds.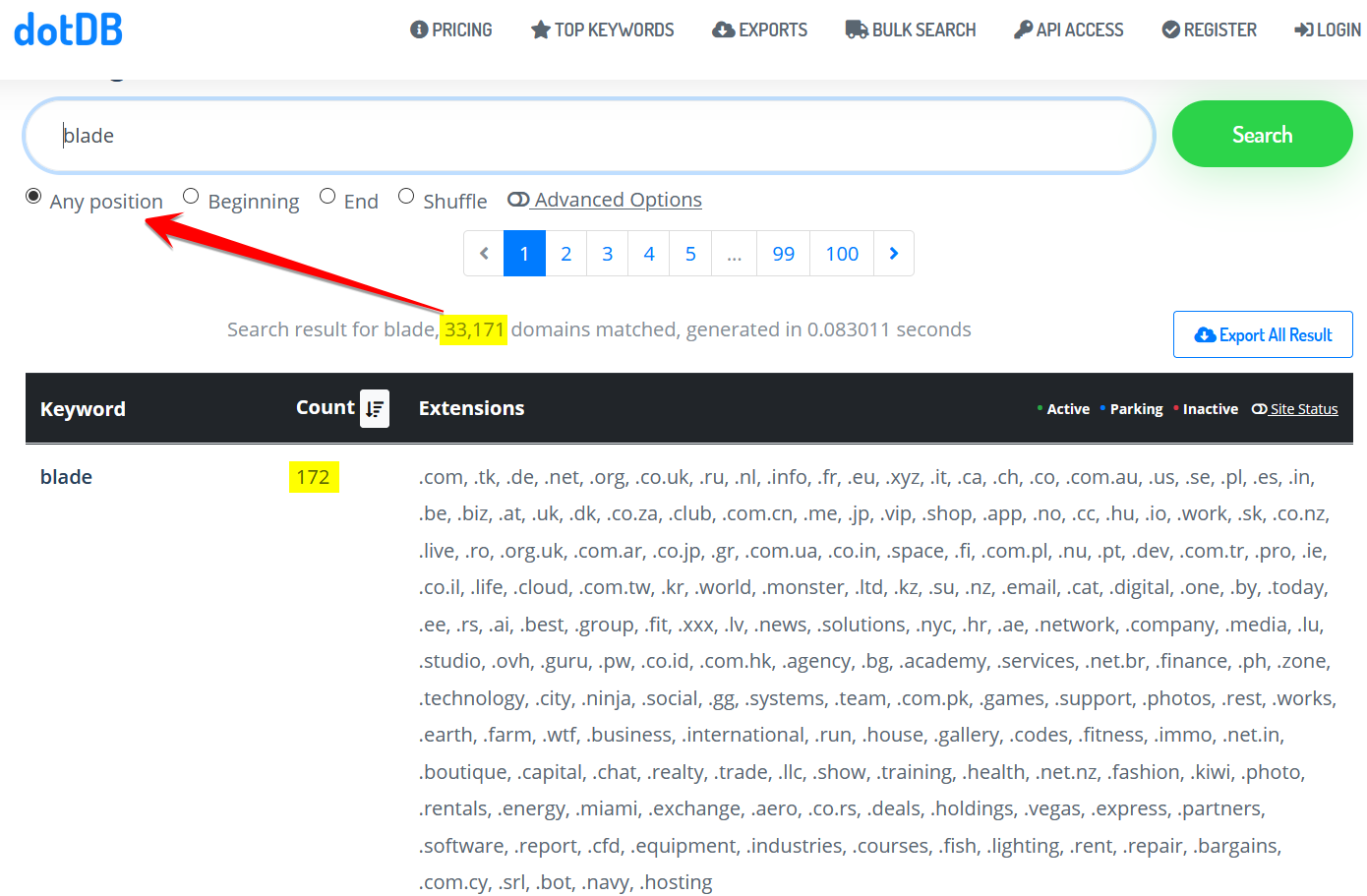 Domains registered is a key driver into the demand of a term. What makes that demand even greater? Of those registered domains, how many of them are developed or being used by established brands?
There is no magic wand to see how many are developed but I have personally discovered two ways to greatly assist with this. Both of my methods are a very specific Google search engine search.
Developed Domain Popularity is a method I shared which works best to see EMDs that are indexed. You would visit Google and search (replace blade with your term): site:blade.*
Google returns 186,000 results for this specific search term I did. Again, in general, that is a pretty high returning result. It is more common to see hundreds or lower thousands of results but with higher results, higher the demand and higher the value. If you see 186K, that is a very high demand term.
Domain Popularity is a method I shared which again works with Google search and should highlight a "broad" result but related to the keyword/term of your interest. This method will show broad match registered domains, social media activity, ads, news stories and more. The search is: www.blade.
Google returns much higher results due to the broad nature but looking at the first 5 pages or so of those results should give you a very good idea of how much this term is used, to determine popularity. If you are seeing a bunch of indexed sites contain or match the term you searched in the domain names of the results, that should display to you that the term is in demand and is popular.
Please keep in mind that the blade numbers are HIGH in general.
Funded companies
Establishing a Low, Medium, High on demand should give a Thousands/Tens of Thousands/Hundreds of thousands and higher idea for pricing for .com domains. Something that I've noticed that will assist in driving up the value of a domain name is well funded companies and all it really takes is one. The vast majority of the time, the domain owner is aware of the funding, so if you are a startup and you get funding, buy before you announce or your likely raising the price on the domain if you later decide to buy.
Crunchbase.com is the source I use and again, use the term of interest as your search method. For me, I searched: Blade.
I like to type the term (don't click Enter) and look at the Organizations listed. Crunchbase will rank these and show more details if you are a paid member but the more companies that have $xx million and higher, simply increase the demand value on the matching .com. At the time of my search, the buyers of Blade.com were using the domain name FlyBlade.com and had raised $50 million dollars. They were established in 2014.
Blade.exchange had $4.3M in publicly announced funding. There were some more but each of these, the best domain name would be Blade.com and for each of them, considering they all simply brand as "Blade" would benefit of owning Blade.com. Keep in mind that many companies are privately funded, undisclosed amounts, bootstrapped companies etc. so this list of potential interest is always higher than you think.
The general talk I've heard recently is a startup could spend around 10% of its latest funding round on the best domain for its brand. So, if a company raises a $5M series A round, $500K of that could be spent to acquire the best .com domain for the brand and be within reason.
Beyond funding is who the owner of a domain name is. Funded companies can raise the value of a domain but so can a wealth domain owner. Again, if a wealthy individual or very large company owns the domain name of your interest, it can be a situation where there expectations go beyond what you value the domain. If this is the case, there are potential options like lease or payment plans, equity share and more that could be considered. This can also be a situation of who you know, so choose wisely (and I do suggest) using an experienced and highly trusted domain buyer broker.
Advertising
The most valuable advertising in the world is also the cheapest but for it to work the best, it should be as friction-less as possible. World of mouth. As I said earlier, if you brand as Blade, your logo is "Blade" and you reference your company in generalized conversations as Blade, your domain name should be Blade.com! Remove a friction point of using an off-brand domain name that you need to explain every conversation (you personally don't get that chance in word of mouth)… oh, our domain is FLY Blade dot com, F L Y B L A D E D O T C O M.
Keeping the natural flow of word of mouth advertising moving along by doing things that are natural to people and this include matching your domain name to your brand.
Not only will an off-brand domain name be out of line with your branding, it creates a stress point for your customers to have to remember your domain is different than your brand. This also leads into security concerns (mainly misdirected email, phishing is a potential) and traffic leak to mention a few.
Value has to be considered when brand aligning a domain name and the ease and professionalism the match brand .com domain presents to your brand.
Domain names are heavily used by businesses. Every email sent, every business card handed out, every letter head, signs, shirts and promotional items available to our world will have your domain name on it. Think about that!
Asset
Something that can get overlooked in the evaluation process but is a perfect time to realize it, domain names are intangible assets. You are not buying an ice cream cone and once you eat it, it's gone forever. You are not buying a billboard, TV commercial or radio ad that will run and be done. Domain names are long term assets.
Domain names only cost about $15 per year to renew and retain ownership. Super cheap after initial purchase. With demand, comes the need/want factor and the fact that we live in a very big world. Just as you may be interested in acquiring a domain name, so may somebody else. Just like Blade invested $503,000 into its brand to secure its best domain name and upgrade from FlyBlade.com, Blade.com could be worth $5 MILLION to the next brand that decides Blade is the brand for them. Since there is only one Blade.com and if you want it, you need to come to an agreement with its current owner to change ownership, this makes the domain name a valuable asset and one that can instantly gain value.
The realization that the domain is an intangible asset can often be a purchase decision factor.
Recap
When you are evaluating what a domain name may be worth to your startup, established company or as an investment, it is clear that the big picture needs to be considered. No one specific thing should say the domain name is worth X. This certainly includes the vast majority of automated domain name appraisal systems. Each domain name is unique and so are the owners. If you are not sure what a domain name is worth, speak with professionals who do. Speak with other startups that have acquired and invested heavily into the best domain for there brands. Read Domaining.com, DnJournal.com and the many trusted domain related sites like DNW.com and DomainInvesting.com which often report domain name sales and pricing trends.
Really good domain names are not cheap. They only continue to go up in price, so what is expensive today may be cheap in the near future. Look at demand, evaluate the flow of word of mouth and the security and brand value the best .com domain name brings to the table, and all of these together should help you evaluate a domain name's worth to you.
The information contained in this blog is provided for general informational purposes about domains. It is not specific advice tailored to your situation and should not be treated as such

.