Maintaining anonymity and peace of mind on the internet is an ongoing battle for more than 25 years. The average person links anonymity with the ability to not be bothered by third parties peddling a variety of services. In that sense, anonymity and the ability to avoid spam are interlinked.
Domain names are registered just like phone numbers: a person, or business, is linked to a domain and contact information such as an address, a phone number, and an email are stored at the Registry. This type of information used to be fully public and available to view, store, and process.
In the late 1990s, companies that offered a generic contact address and phone number along with a method of obfuscating the email made their services available to domain registrants. Eventually, these services were integrated into the Registrars, that found a new service to monetize. Want privacy when someone looks up your domain? Pay an extra dollar, or more, per year for the service.
In 2018 the GDPR changed the field of WHOIS data storage, eliminating the open house of domain information. The European Union's strict laws on personal information storage and sharing spilled over into the US cyberspace, forcing many American companies to comply with stricter terms of data storage. Essentially, the domain registrants have the option to hide their contact information by default, and enable the public viewing of it as they see fit via the Registrars' domain management systems.
At Uniregistry, there are two layers of protecting your privacy and this article is about setting it up for maximum protection.
The WHOIS Privacy can be enabled at registration time and for each domain individually, at any moment. Click on your domain, or select multiple domains to edit them as a group.
If you're editing a group of domains, right click on one of the selected domains, proceed to the "Bulk Actions" option and select "Privacy.Link." You can then set privacy to Private or Public.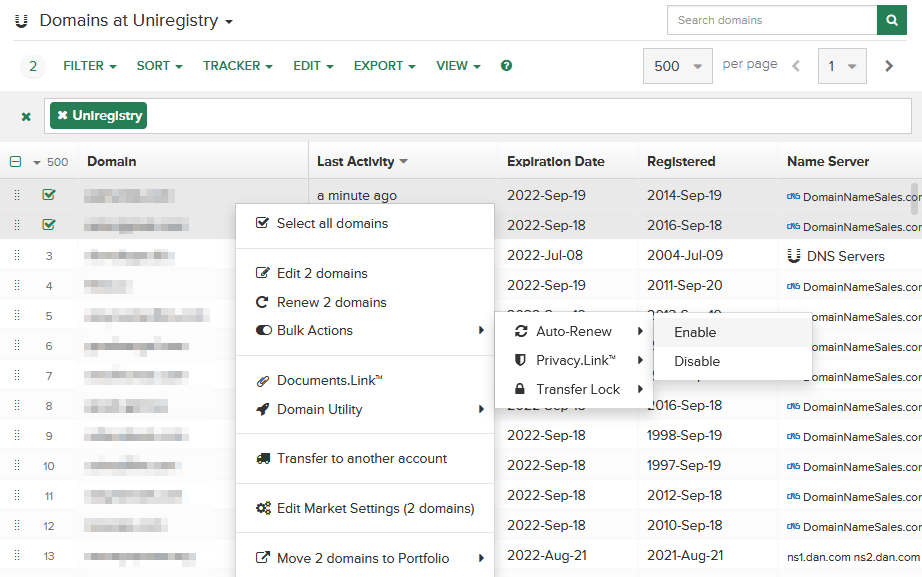 When choosing the Default WHOIS Privacy, no information regarding personal data is provided. When querying the domain, the registrar's headquarters on record will be displayed; in the case of domains at Uni it'd appear as "GOSCI - Cayman Islands."
There's a single reason to keep the setting to Public: You want the public to contact you via your WHOIS info, but better be prepared for a wave of phone calls and emails, most of them spam.
If you do choose the Public info setting, at the bare minimum you should have already set up a PO box and a Google phone number that uses AI to filter out robocalls and other spam.
On the other hand, if you want to keep your WHOIS information private, enable WHOIS Privacy and select Privacy.Link from the context menu or the privacy setting. Don't forget to click on the "Save Changes" button, when editing individual domains!
Once completed, the edit will result in a WHOIS address that appears as "PrivacyDotLink Customer" and a unique identifying number. The number identifies a single domain linked to the registrant's underlining email address. All domains have different privacy numbers, to ensure top level data protection privacy.
Did I mention that Privacy.Link on the Uni registrar platform is completely free?
Personally, I've found that there is no reason not to use the Uni Privacy WHOIS. I can attest first hand that not setting WHOIS privacy results in multiple calls and spam emails from a single email registration. Imagine when hundreds or thousands of domains in one's portfolio are left unprotected!
The information contained in this blog is provided for general informational purposes about domains. It is not specific advice tailored to your situation and should not be treated as such

.